"How can I fix iPhone 7 stuck on DFU mode?" We all know that iPhone has changed its reset process with the iPhone 7 series. So we can't follow used method to reset iPhone 7 when it stuck on DFU mode. Below is a tutorial to teach us how to deal with that trouble.
How to fix iPhone 7 Stuck on DFU mode with Reiboot
Reiboot is an all in one tool to fix iOS devices stuck and booting problems. Just one click you can put iPhone 7 to enter/out recovery mode. It can fix all iOS stuck, such as blue/black screen of death, stuck on white apple logo, stuck during iOS update, stuck in DFU mode, iTunes bugs and so on. We can learn its detail functions below.
Step 1: Download and install Reiboot on any enterable computer. Then click to open Reiboot on your PC.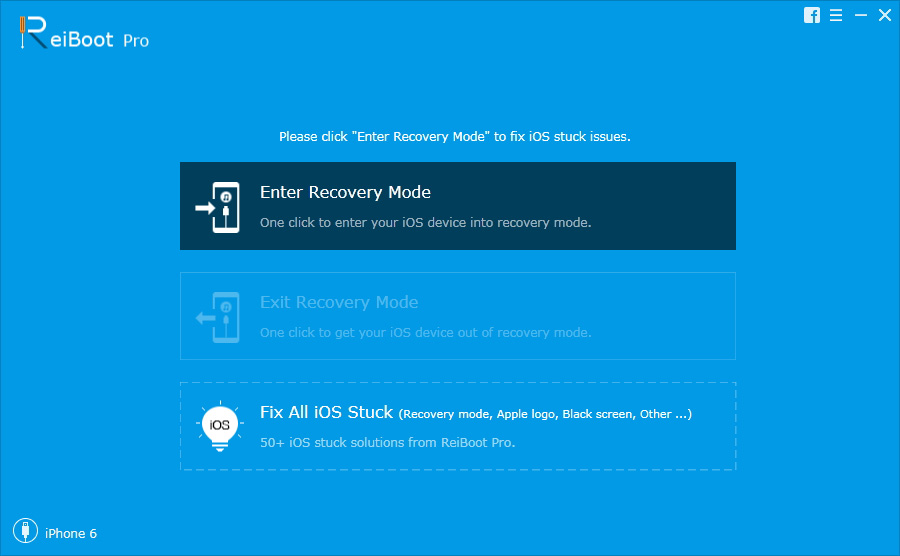 Step 2: Connect your stuck in DFU mode iPhone 7 with computer. Then you can see the Exit recovery mode is activate when you connect successfully, here you can click exit recovery mode.
Step 3: Since exit DFU mode share the same steps with exit recovery mode, all of them requires reboot your devices. So you can wait about 30 seconds, you will see you iPhone 7 running normal.
How to reset an iPhone 7 When stuck
Step 1: To press and hold down the iPhone's power button on the right side of the handset.
Step 2: With the power button still held down, press and hold the lower volume button on the other side of the handset.
Step 3: Continue to hold both buttons while the display remains blank, until it comes back on with the Apple logo showing.
How to activate DFU Mode on an iPhone 7
Step 1: Turn off your iPhone 7 and connect it to a computer using a Lightning to USB cable, and ensure iTunes is running.
Step 2: Press and hold down the power button on the handset for three seconds.

Step 3: With the power button still held down, press and hold the lower volume button, and keep holding both for 10 seconds. The screen should remain blank throughout, so if you see the Apple logo displayed, you've held the buttons for too long and will need to restart the process.
Step 4: Release the power button, but keep holding the lower volume button for about 5 seconds. Again, if your phone displays the "Plug into iTunes" screen, you've held down too long and need to restart.
Step 5: If you performed the previous steps correctly and your phone's screen remained blank, a dialog prompt should appear on your computer saying "iTunes has detected an iPhone 7 in recovery mode. You must restore this iPhone 7 before it can be used with iTunes."
To fix iPhone 7 stuck on DFU mode is not so difficult like we think before. All you need is just to follow helpful guide. If you have any trouble in using reiboot, you can get solutions on our website.