It is so annoying! But don't worry! Today I will give you three ways to recover deleted contacts from iPhone 5.
Method 1: Restore iPhone 5 Contacts with iTunes
Step 1: Connect your iPhone 5 to the PC/Mac
Step 2: Open iTunes
Step 3: Click on Devices tab
Step 4: Right-click on the iPhone that's connected and click 'Backup'
Step 5: Note that this will effectively remove all old information on your iPhone and get the backup data on your iPhone. If you had backed up contacts too in your previous iTunes backup, those will be restored to the iPhone and you should mostly recover that deleted contact now.
Method 2: Restore iPhone 5 Contacts from iCloud
If you have enabled iCloud Contacts sync, in all probability, the lost contact should be up on your iCloud account. To check if this is true:
* Login to https://icloud.com with your Apple ID and password
* Click on Contacts
* Search your contacts to check if the deleted/lost contact (from your iPhone 5) is still visible here
If yes, you can now recover lost contacts from iPhone 5 easily.
Step 1: Go to Settings -> iCloud on your iPhone 5
Step 2: Turn off Contacts (if it's not turned off already)
Step 3: When the popup message comes up, press 'Keep on My iPhone'
Step 4: Now, turn "ON" the contacts again and tap "Merge"; wait for a while
Step 5: After sometime, you should see the deleted contacts back on your iPhone
Step 6: In case this doesn't work, all you do is delete your iCloud account (but keep all data) and then re-add the iCloud account by logging in with your Apple ID and password
Step 7: Merge all data and wait for a while. After sometime, iCloud will have merged all contacts to your iPhone and the deleted one should be back!
Method 3: Recover Lost Contacts from iPhone 5 without Backup
The above two methods are all based on the backup that you have made in iTunes or iCloud. But what if you have no backup anywhere? Is there still a way to restore iPhone 5 contacts without backup?
Certainly yes! The only matter is that you should choose a right professional data recovery tool to complete the contacts recovery.
Tenorshare iPhone Data Recovery is a good choice anyhow. It also provides the option to restore contacts from iPhone backup. Now we see the direct recovery option only. This doesn't need any backup.
Steps to Perform Tenorshare iPhone Data Recovery to Retrieve iPhone 5 Contacts
Step 1: Download iPhone Data Recovery and run it. Connect iPhone with PC using a USB connector. Choose the first mode of "Recover Data from iOS Device" from the top menu.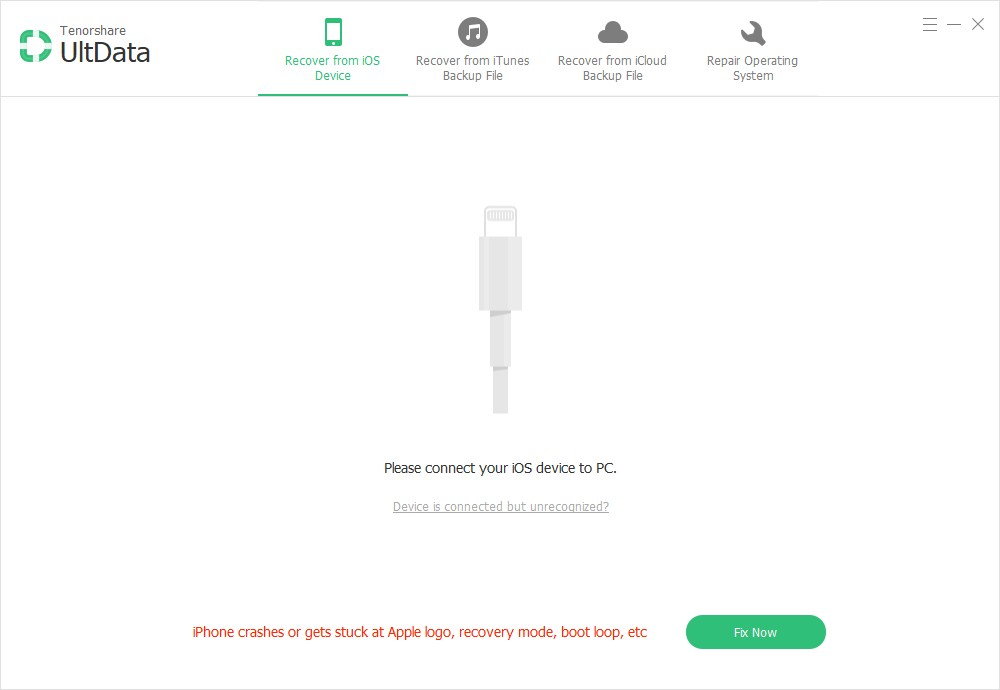 Note: This iPhone Data Recovery is applied to windows only, need to recover data on Mac, please download the Mac version from:
http://www.tenorshare.com/products/iphone-data-recovery-mac.html
Step 2: Scan iPhone files, contacts are included
There will be progress windows for communicating with device to scan the lost data.
Step 3: Read lost contacts scanned
After the communication is finished, all the lost data on the iPhone will be listed in categories. That means the tool can recover all the 11 kinds of file types. Click "Contact" to see the contacts details.
Step 4: Recover lost contacts on your iPhone 5
Choose the listed lost contacts, click "Recover" and set a save path for the contacts recovered.
Now the three ways are all described, you can choose any one accordingly to complete your iPhone 5 contacts recovery.